KLAS RESEARCH GIVES GOLIATH AN "A+" RATING IN THIS NEW REPORT
We understand the unique challenges faced by today's healthcare IT departments.
Compared to their enterprise counterparts HIT has half the IT budgets and personnel to support the same number of users.
While at the same time, patient care is at risk.
Our technology has been described by health systems as being like adding full-time troubleshooting experts to their staff and has been proven to improve clinician satisfaction by proactively addressing issues around the availability, performance, and reliability of EHR & business applications.
Unique and industry-only technical and business partnerships with major EHR Vendors
Oracle Cerner – We offer an industry-only Cerner Intelligent Agent which is deployed into the hosted facility in Kansas City (RHO) and provides exclusive access to end user experience data from an end user's perspective. We also have a partnership where Cerner Clients can purchase GT through Cerner.

Epic – We have an Epic Module which is an integration into the System Pulse data base. We then correlate System Pulse data, end user experience, and the Citrix/VMware Horizon delivery infrastructure into a central console. We are also a member of the Epic App Orchard.

MEDITECH – We have an industry only MEDITECH Module which correlates MEDITECH Performance Data, end user experience, and the Citrix/VMware Horizon delivery infrastructure into a central console.
"Every morning, I use Goliath to set the stage for my day. The software proactively monitors events, conditions, and failure points 24/7/365 to help solve end user experience issues. It even alerts me before users are impacted."
"We selected Goliath Technologies because their end user experience monitoring and management supports Cerner and identifies systems degrading before physicians are impacted. We 

do over 15,000 Cerner application test launches per day. This early warning system coupled with enhanced performance data and analysis puts us in a better position to collaborate with 

Cerner to resolve issues." 
Mike Nelson, SR. VP, Strategic Services at Universal Health Services ​
Rated #1 End-User Experience Monitoring and Troubleshooting Platform for Healthcare IT Teams
Embedded Intelligence and Automation – designed to support your team
Out-of-the-Box End User Experience Troubleshooting Expert​
Goliath automatically correlates performance data from various sources across the infrastructure including hypervisors, servers, operating systems, and applications to quickly identify where a problem occurs and isolate root cause. Allowing anyone on your technical team to quickly resolve even the most complicated logon initiation, logon duration, and session performance issues.
Deep API Integration & Automatic Correlation
Logon Process Drill Down
Alert Resolution Instructions

On-Demand Remediation Actions

 

Threshold Interpretation Intelligence
Unique End User Experience Metrics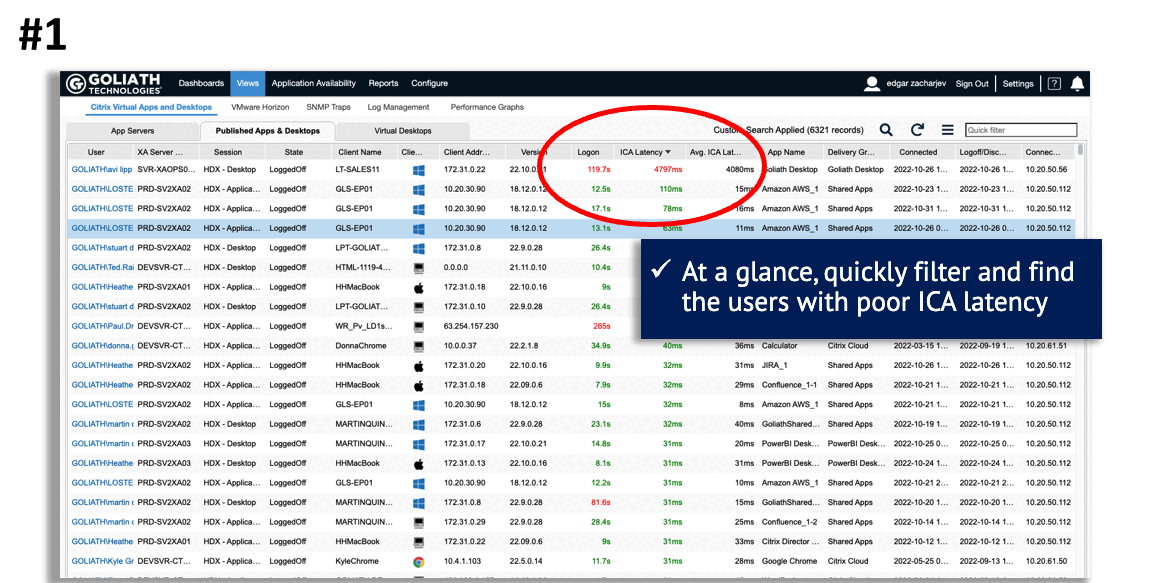 "Citrix gets a bad reputation as being blamed for everything, but the underlying issue rarely has anything to do with Citrix. Goliath provides end-to-end visibility across the entire Citrix delivery infrastructure and enables us to quickly isolate root cause of performance issues."
Vitaly Petrovsky, Manager of Enterprise Applications
Maimonides Medical Center
"Prior to Goliath, we would call Cerner 

9 out of 10 times when our end-users 

had performance problems. Now with 

Goliath, we can quickly identify root 

cause of performance issues and more 

often than not the issue has nothing to 

do with Cerner but is related to Citrix 

or end-user behavior eliminating those 

calls altogether."
Buzzy Mullahkhel​, Senior Director of Application Services at Intermountain Healthcare
Experience true end user experience monitoring and troubleshooting free for 30 days.